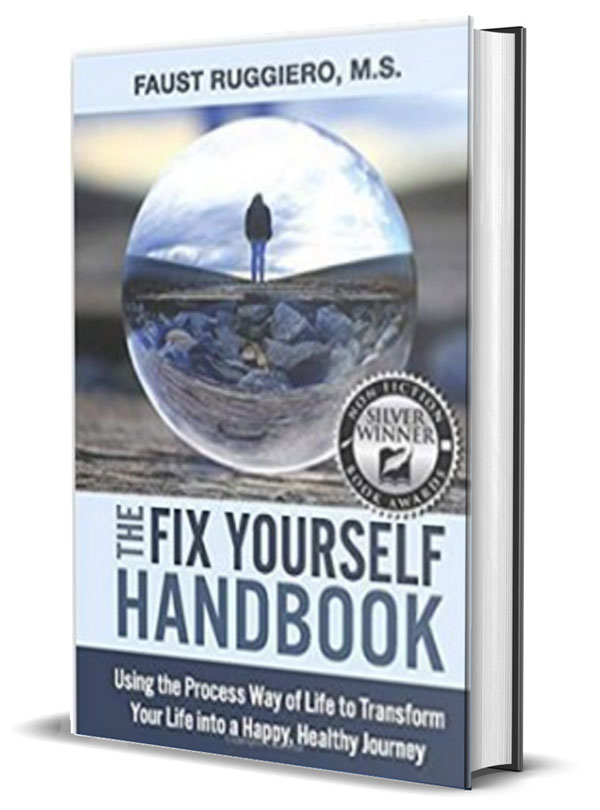 WHAT THE FIX YOURSELF HANDBOOK CAN DO FOR YOU!
CHAPTERS 1 THROUGH 36


Define and incorporate healthy life routines.
Reduce your anxiety
Give you a healthy formula to address any problem in your life.
Reduce negative emotions, while empowering your intellect.
Help you slow down the unhealthy pace of your life.
Teach you how to be brutally honest with yourself.
Teach you how to understand life as a healthy, progressive journey.
Help you understand the processes which guide your life.
Help you understand how to live day-by-day, and in the moment.
Help you with address obsessive thoughts and behaviors.

Help you learn about life's natural flow.

Help you deal with change better.

Understand how to apply forgiveness in your life.

Learn to live life without lies and defenses.

Learn how to live without envy

Learn the art of confronting others peacefully.

Incorporate conflict resolution in your life plan.

Learn how to define, and reduce your anger.

Learn how to control who gets in and who stays out of your life.

Understand how to incorporate change in your life.

Learn how to define fear and what to do to reduce it.

Learn how to reduce your walls, and trust yourself and others.

Teach you the art of boundary setting and defense.

Understand people pleasing, and how to stop it.

Understand how language both expresses our thoughts and controls the way we think.

Become better at keeping your life simple.

Learn how to set and achieve goals.

Understand how to define and express your own creativity.

Learn what passion from the inside/out is, and how to use it.

Understand the connection between wisdom and humility.

Understand how gratitude can connect your entire world.

Learn importance of being in service of others.

See how faith can become the most empowering source in your life.

Understand what real love is, and how to love yourself.

See how to extend your loving world outside of you.

Learn to define the new person you are becoming.

Understand the importance of personal housekeeping.